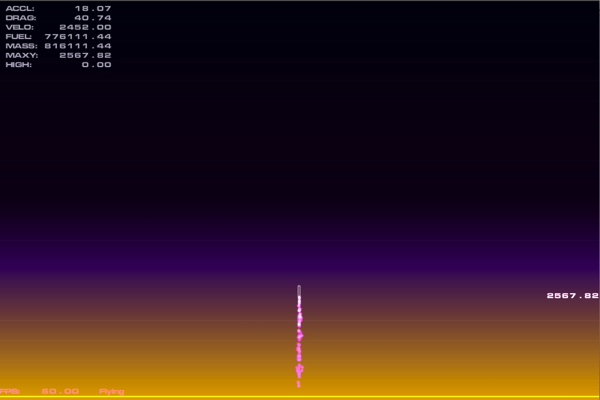 Finally then, here is the PC build of Reach for the Sky, my toy, soon to be I think, the world's first Rocket RPG. Yes, that's grandiose. Yes, that's tongue in cheek. Oh and there is a Mac version too. Of course. And the Mac version has that lovely rocket sound.
Get the PC build here.
Get the Mac build here.
Remember, it's just a toy, so muck around with it. I'll be building a game on top of it.
You can fiddle with the JSON files in the assets folder and see what happens. The good news is that you can fiddle with them without restarting the game. After you've fiddled, just hit the Backspace (delete on Mac) key and all the changes will be reloaded.
You can change the sky gradients, the engine power, the atmospheric density at ground and at the top of the sky, the drag on the ship, and lots more. Please give me comments here, or on Twitter @shahidkamal with the hashtag #RFTS
Thanks to everyone for your help so far!