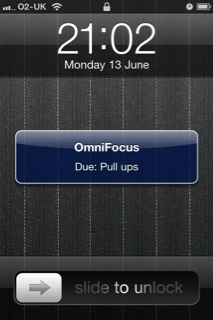 I use the expensive, but essential Omnifocus on my iPhone, iPad and various Macs, with the database synchornised using Dropbox. It's fantastic in every way, except one. During the evening, I have OmniFocus triggering a notification with corresponding alert sound on all my gathered devices. It's like World War 3 breaking out. I have all my devices with me, practically all the time.
I don't think there is a simple way around this. Geolocation doesn't have the resolution (and besides, won't work on the iPad and Mac all the time anyway). I suppose the easiest way is to have it only on my phone, but during the evenings, I like to use the Mac and leave the phone a metre or so away.
Another option would be to have a flag in the Dropbox sync file that tells me which devices are currently checking in and if I'm stationery (check the iPhone GPS) for more than say, 5 minutes, and the Mac is on and OmnFfocus running, it would display a Growl notification on the Mac only. If the Mac were not on, and the iPhone GPS were showing me as stationary for 5 or more minutes, it would notify me on the iPad only. If the iPhone GPS indicated movement of more than say 20 metres a minute, only the iPhone would notify me.
It would perhaps be an over-clever solution that would trip up over some really trivial test cases, when the real answer is to have a better notification system at OS level. Even that isn't going to be a panacea.
And no, I haven't done my pull ups, despite being reminded three times, by three different devices.